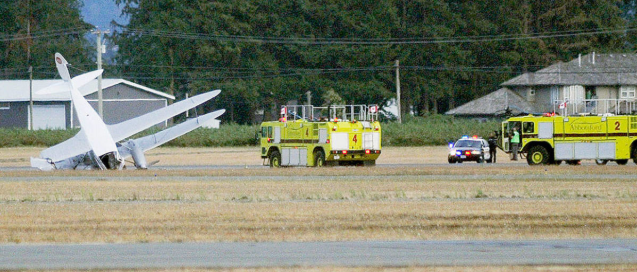 2018-08-11
N683DH, a vintage De Havilland DH-89A MKIV 'Dragon Rapide' biplane operated by Historic Flight Foundation, was conducting air rides at the termination of the second day of the Abbotsford International Airshow, when it departed with four passengers off Runway 25 from the intersection of Taxiway Delta for a local flight to the South East. During the initial climb shortly after becoming airborne, the aircraft impacted the runway with its right wings, and came to rest on its nose on the right edge of the runway with approximately 3000 feet remaining. ARFF responded and were on scene within a few minutes.
Three passengers suffered minor injuries and were taken to hospital for observation.
One passenger received serious injuries, and was airlifted by helicopter.
The pilot was seriously injured, and required to be extricated from the wreckage; he was also airlifted to the hospital.
The airplane was substantially damaged.