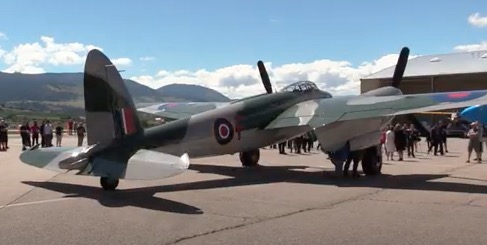 KF Aerospace's Mosquito is now safely tucked in a hangar at the company's Kelowna headquarters. The aircraft, a former Spartan Air Services high altitude mapping aircraft, was purchased earlier this year but was stored at Vancouver International Airport until it could be flown to its new home. That was supposed to happen in early June but two attempts were scrubbed due to technical issues and weather. The made the hop over the mountains June 29.
The aircraft was flown by Mike Spalding, chief pilot of the Military Aviation Museum in Virginia, one of a handful of pilots worldwide who are experienced in the type. The museum also has an airworthy Mossie. There are only four Mosquitos in flying shape in the world and KF Aerospace's is likely the most original. "It's the only one that's original wood, is still in the aircraft, which is amazing," said KF Centre For Excellence Executive Director Paula Quinn.
It was built after the Second World War and used by Spartan to do high speed and high altitude aerial photo mapping of the North. After its retirement by Spartan, it went through several owners who stored it safely before Vancouver aviation businessman Bob Jens bought it and had it fully restored at Victoria Air Maintenance. The plane will be the centrepiece of the Centre For Excellence in Kelowna and will be flown.