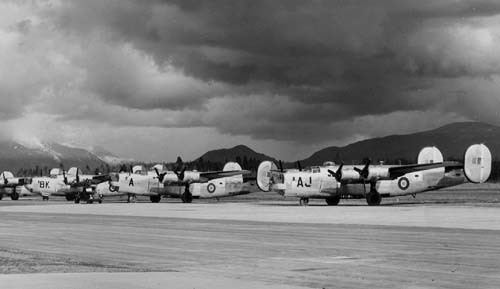 An engine from an RCAF Liberator bomber that crashed near Chilliwack in 1945 has been hoisted off a mountainside and will become a permanent memorial to the loss and hardship of war.
Liberator KK241 left RCAF Abbotsford on a training mission to Revelstoke and Penticton, B.C. on June 1, 1945, just 10 weeks before the end of the war. All 11 crew members, who were all RAF personnel died instantly when the plane hit Welch Mountain, about 100 feet below the summit.
The location of the wreck has been well known and memorials were erected at the site but the new memorial will be easily accessible.
It will be erected in Thompson Park, near Chilliwack. The engine will be surrounded by two plinths with the names of the servicemen who died.
"This is a chance to give them a proper memorial," said Lt. Ron Shore, who's overseeing the project.
As the war in Europe wound down, Allied bomber crews came to Abbotsford to train because the terrain and weather is similar to Burma, where the next focus of the war was expected.