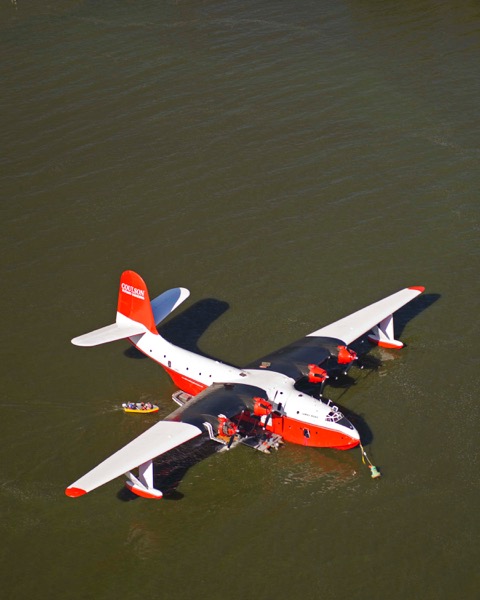 Coulson Air Tankers flew its damaged Martin Mars from Oshkosh to Port Alberni on Tuesday and will do permanent hull repairs there.
The Mars was in Wisconsin as one of the star attractions at EAA AirVenture 2016. Local media said two softball-sized holes were punched in the sheet metal, likely when the fully-loaded aircraft scraped the bottom of the shallow lake during the landing.
The crew was able to lift off again to dump the 7,200 gallons of water on board to allow the aircraft to ride higher in the water when it landed again. The plane was taken to the EAA Seaplane base where local firefighters had pumps ready to eliminate the water inside the hull.
The aircraft was taking off from the seaplane base on Lake Winnebago for its afternoon performance at AirVenture on July 29 when warning lights illuminated on the control panel. The exact nature of the issue wasn't released but it was said to be engine-related.
Procedure calls for an immediate precautionary landing and the extra weight of the water load was likely a factor in the underwater contact. Lake Winnebago is shallow throughout and its deepest point is just 21 feet.