With an improved airplane and a pent-up need for speed, Canadian Red Bull Race pilot Pete McLeod is ready to take on the world's best in the first of the spectacular events in the series in Abu Dhabi this weekend.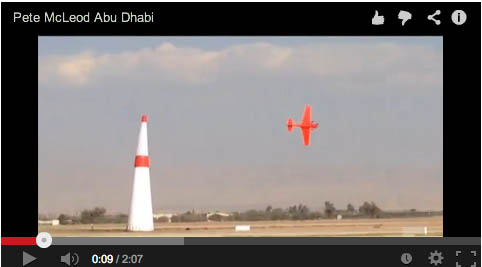 McLeod, of London, ON, was just finding his wings in what many consider to be the ultimate motor sport when Red Bull put the enormously popular, but complexly expensive event on hiatus during the worldwide economic recession.
"It's great to be back in Abu Dhabi and the U.A.E for this race. I'm excited for race weekend but right now I'm focused on maximizing testing time in the warm weather – something we couldn't do in Canada with the harsh winter."
Pete is the youngest pilot in the field and just had his 30th birthday.
His aircraft is the latest model Edge 540 and has a new 340 horsepower Lycoming AEIO 540 EXP and all the speed mods necessary to make man and machine serious contenders in this year's series. McLeod has no illusions about his competition, though.
"It's not going to be easy. It will take some time, but my team will keep getting stronger, the airplane will keep getting faster, and I will keep flying harder," he said. "There is no better place to start than here in Abu Dhabi."
Canadian Aviator will be doing regular updates on McLeod's progress through the challenging year ahead .