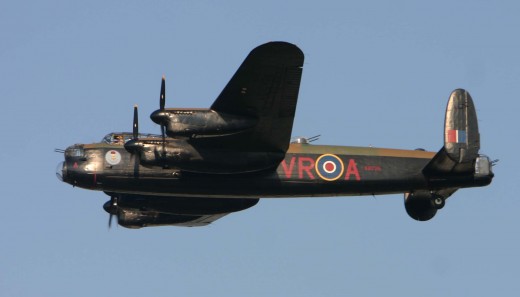 One of the most poignant stops of the British tour by the Canadian Warplane Heritage Museum's Lancaster is scheduled for today (Aug. 28, 2014) when the aircraft lands at RAF Middleton St. George.
That's the base from where Flying Officer Andrew Mynarski flew Lancasters in the Second World War before he died trying to save a trapped crewman on their burning aircraft over France.
The CWH Lancaster is named in honour of Mynarski, who was posthumously awarded the Victoria Cross for trying, but ultimately failing, to reach rear gunner Pat Brophy after the aircraft had been hit on a raid. Mynarski died from burns suffered in the attempt but Brophy miraculously survived the ensuing crash and reported the heroics when he was returned to England. Based on Brophy's account, Mynarski became the last person to receive the VC in the war.
A life-sized statue of Mynarski now stands at the base and a ceremony honouring his valour will be held with the Lancaster in attendance.
Meanwhile, the British tour has passed the halfway point and huge crowds are turning out to see the iconic aircraft flying with the only other airworthy example, the RAF's Battle of Britain Lancaster.
Museum officials are now pondering options to fill an empty seat on the aircraft for the return flight in late September. The film crew shooting a documentary on the tour has suggested that Helen Munson, the wife of Matthew Munson, who paid $79,000 in an eBay auction to fly from Hamilton, ON to England on the aircraft, be allowed to accompany him on the return flight. The film crew thinks having the couple aboard would add an interesting element to the documentary, since Mrs. Munson was concerned about her husband's safety on the first flight.
Museum officials are still mulling the plan and may also auction off the seat for the return flight.