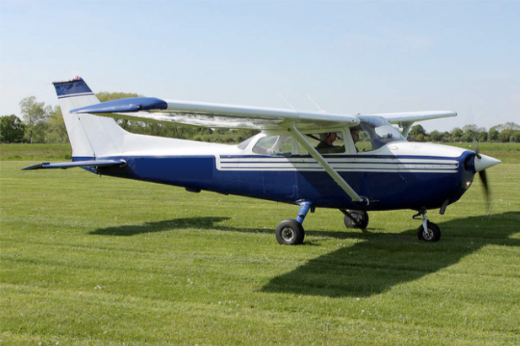 A Canadian pilot's pleas for his beloved Cessna 172 fell on deaf ears as a U.S. judge ordered the aircraft's forfeit as part of the pilot's sentence for illegally flying a Canadian woman into the U.S. last August.
Ryan Brandt, of North Bay, Ontario, who had been in an Ohio jail since last August even offered to stay incarcerated longer if the plane was returned to him at the end of his term but U.S. District Court Judge Jack Zouhary said there are no such dealmaking provisions in the law and ordered the 1975 Cessna 172M turned over to the U.S. government.
Brandt was nabbed by U.S. border agents at Erie-Ottawa International Airport in northern Ohio just after midnight last Aug. 29 after flying from Windsor Airport. His passenger, Kathryn Adamson, was banned from the U.S. for previously overstaying a visa and she, too was arrested.
Brandt and Adamson had been in the local jail since their arrest. Adamson was sentenced Jan. 16 to time served and a $700 fine for illegal entry. She told the court she was trying to get to Florida to visit her boyfriend. Brandt had his sentencing hearing Feb. 11 and was sentenced to time served and foreiture of the plane for his role in the caper.
"If I would have known how serious the consequences would have been, I would have never even thought of flying here," the Toledo Blade reported Brandt as saying. "I've lost nearly everything I care about over this mistake."
Brandt admitted to flying low under cover of darkness to avoid detection on that night and Zouhary told him he's lucky not to have evoked a harsher response from U.S. authorities.
"The world changed after 9/​11, and what might have been seen in the past as a minor indiscretion is not so anymore because of the world we live in," the Blade quoted the judge as saying.
Although Brandt was the registered owner of the aircraft, his mother is stuck with the financial penalty for its forfeiture. Court was told she'd taken out a line of credit to finance its purchase for her son.