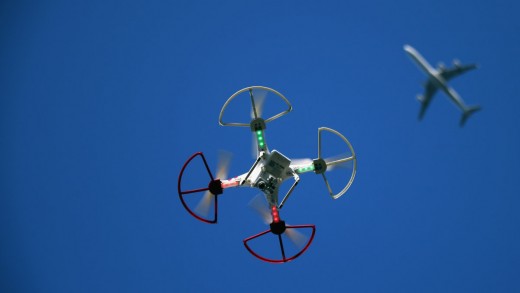 The pilot of an aircraft taking off from Region of Waterloo International Airport said he missed hitting a small unmanned aerial systems aircraft by about three metres on Sunday.
The pilot was leaving on a flight for Tennessee when the passed the UAS about 500 metres off the end of the runway over a wooded area. It is illegal to operate UAS within five nautical miles of any airport.
Waterloo Airport Manager Chris Wood told CBC there have been other close encounters in the area and it's becoming a topic of conversation among airport managers.
"It's definitely something the industry is paying very close attention to," he said.
Although many UAS operators are hobbyists who have little or no knowledge of aviation regulations or those governing unmanned aircraft, some are flagrantly in violation.
CBC combed the Civil Aviation Daily Occurrence Report System (CADORS) and came across a report in which airport security at Billy Bishop Airport in Toronto actually found the operators of a UAS spotted at the airport.
The report said they claimed to have permission from air traffic control. They beat a hasty retreat when the security officers called police.