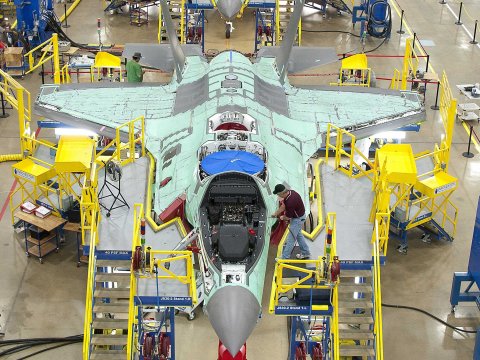 Canada has not formally withdrawn from the global partnership creating the F-35 advanced fighter program even though the new Trudeau government has been in power for a month and doing so was a major plank in its platform.
The Fort Worth Star-Telegram says Lockheed Martin hasn't been notified of any withdrawal and until it does it's business as usual.
Michael Rein, director of F-35 communications for Lockheed Martin said the company remains hopeful it will continue to work with Canada. He said Canada is "a valued partner and we will continue to support them through their decision to replace their aging CF-18 fleet."
Canada's withdrawal would by no means slow down or even greatly affect the program. Lockheed Martin expects to build 4,000 aircraft and Canada will only get 65 of those. In congressional testimony last week Lt. Gen. Chris Bogdan, the Pentagon's F-35 program chief, said the withdrawal would add about $1 million to the cost of each of the other aircraft.
Aircraft now coming off the Fort Worth production line cost about $112 million each and the company says that will come down to about $80-85 million.
Canada has already spent $309.4 million on the development of the F-35. Dozens of Canadian companies have contracts to supply parts and software for the aircraft and that work would likely disappear if Canada withdraws from the cooperative effort.
It's also believed that Lockheed Martin would compete in an open bid process to replace the CF-18s.