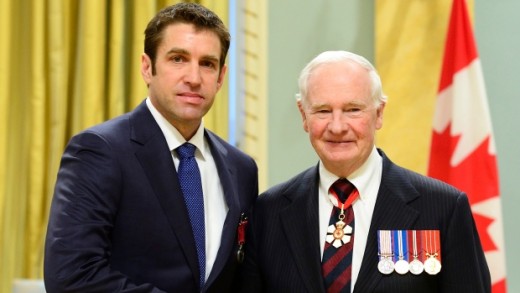 Helicopter pilot James Kitchen was awarded the Medal of Bravery by Governor General David Johnston on Monday.
Kitchen and his colleague Will Ward were in Iqaluit on March 13, 2011 when they heard that a hunter had fallen through the ice about 200 kilometres from town.
For Kitchen and Ward, it was all in a day's work. "All I really did is go to work," Kitchen told the CBC.
The two hopped in their helicopter and found the hunter. "While Mr. Kitchen skilfully kept his helicopter hovering over the water, Mr. Ward reached down to rescue the two victims, pulling them into the helicopter one after the other, all while battling the unforgiving Arctic winds," said a statement from Rideau Hall. One man was floating on his snowmobile and some empty gas cans while his hunting partner was on solid ice.
But while the vice regal arm of the government saw heros, Kitchen and Ward said anyone else would have done the same in their circumstances.
"When you fly in the bush and remote places you get called out quite a bit to help local authorities and search and rescue to give people a hand when they need it," says Kitchen.