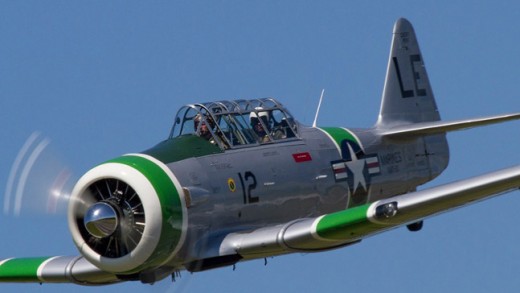 A flight re-enacting a little-known part of Canadian aviation history hit a snag at a stop in Edmonton on Tuesday.
Russian, American and Canadian pilots are flying T-6s and DC-3s are flying from Great Falls, Montana to Krasnoyarsk, Russia in a recreation of some of the 8,000 ferry flights from the U.S. to Russia as part of the Lend-Lease program from 1942-1945.
The U.S. sent huge amounts of war materiel to Russia during the war and the air bridge through Canada was a secret operation that allowed a less risky transfer of the high value assets, although 177 aircraft of the 8,000 were lost in accidents.
The first stage of the flight, which is to Fairbanks, will end Friday and then it will continue another 3,000 km. to Russia after that.
One of the T-6s had engine issues in Edmonton and had to be checked out. It was fixed and will join the others on the delayed next leg.
The effort is sponsored by Wargaming, an online game developer and was put together by Washington State group Bravo 369 Flight.