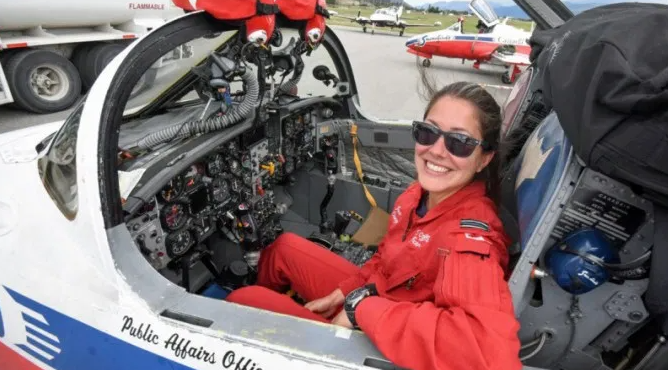 Canadian Press – One member of the Canadian Armed Forces has died and another is injured after a Snowbird plane crashed in a residential area of Kamloops, B.C., on Sunday while on a cross-country tour meant to impart hope during the COVID-19 pandemic.
Capt. Jenn Casey, a public affairs officer with the Canadian Forces, died in the incident, the Department of National Defence said Sunday night.
Capt. Richard MacDougall, the pilot of the aircraft, was being treated for his injuries that the Snowbirds said are not life-threatening.
"Canadians look at the Snowbirds as a source of joy and an exhibition of the incredible feats that our people in uniform are capable of," Minister of National Defence Harjit Sajjan said in a statement.
"Operation Inspiration was intended to lift the spirit of Canadians at this difficult time and the Snowbirds accomplished their mission. I know that all Canadians grieve this tragic loss."
Click Here for amateur video of the crash
Capt. Jennifer Casey, of Halifax, Nova Scotia, Canada, joined the Canadian Forces in 2014. She worked as a public affairs officer for the Snowbirds since November, 2018. She had also worked with the Canadian CF-18 Demo Team. Capt. Casey earned a Bachelor of Arts degree from Dalhousie University, a Bachelor of Journalism from the University of King's College, and a Master's degree in Interdisciplinary Studies from Royal Roads University. Prior to joining the Canadian Forces, Jennifer Casey worked as a, "Reporter, anchor, and producer with NEWS 95.7 in Halifax, a sister station of NEWS 1130" according to a report on the local citynews1130.com.