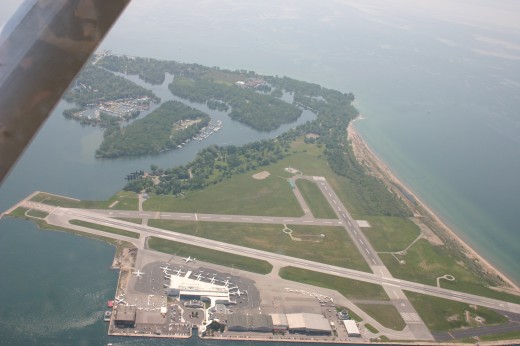 Toronto City Council's executive committee has voted 11-1 in favour of going ahead with negotiations that could result allowing modern jet airliners to use Billy Bishop Toronto City Centre Airport.
After nine hours of public presentations on Tuesday, the committee's decision takes the proposal to extend the runway at Billy Bishop by 168 metres at each end to accommodate Bombardier CS100 jet airliners that have been conditionally ordered by Porter Airlines.
The Toronto Port Authority banned jets from the facility in 1983 to quell noise in the downtown area but the expansion proposal includes an exemption for the CSeries jets on the grounds that the Pratt and Whitney PurePower geared turbofan engines are so quiet that the noise concerns don't apply.
Porter says the jets will allow it to expand its routes to major cities deep in the U.S. and as far west as Vancouver offering customers the downtown convenience it has become known for with its Q400 service with a much broader reach.
Porter CEO Robert Deluce told Toronto media Tuesday the executive committee's decision is good for the whole city. "We're pleased," he said "Getting the boat out of council today and having it go forward on a very definitive path is good news for all of us."
The expansion is far from a done deal, however. City staff have argued against moving quickly with the proposed expansion citing a lack of information on environmental issues and the impact on downtown infrastructure, particularly the already-abysmal traffic congestion. Any future recommendation of the executive committee would have to be approved by council as a whole, which has among its 44 members strident opponents of the plan. Both leading contenders to unseat controversial Mayor Rob Ford (who supports the expansion), Olivia Chow and John Tory, oppose the expansion.
The executive committee heard from more than 100 presenters at the special open meeting and several brought up the future of general aviation at the field. Under the current operating agreement, general aviation access is guaranteed and city staff said repeatedly that their recommendations wouldn't change that. However, some GA supporters told the meeting that the increased airline traffic has increased pressure on GA and fewer aircraft are based there.
Last year, some private aircraft owners claimed Porter was hiking tie-down and hangar rents excessively and their complaints led to a lawsuit being launched by the Toronto Island Pilots Association against the Port Authority alleging a lack of oversight in upholding GA rights a the field.