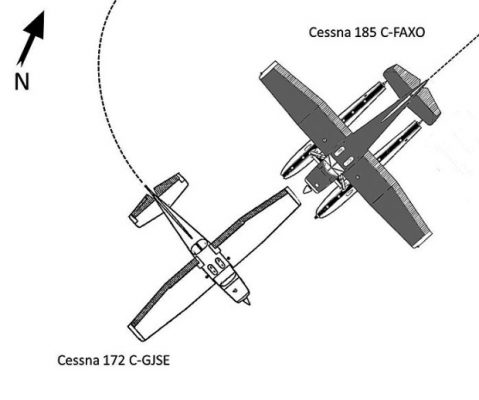 The Transportation Safety Board has renewed calls for collision avoidance systems for light aircraft after a highly publicized mid-air collision near Fort McMurray in June, 2015.
Video of the Cessna 185 floatplane involved in the collision landing safely on the grass at the Fort McMurray Airport went viral but the deaths of a flight instructor and student in the 172 involved darkened that result.
The instructor, Nabeel Chaudhry, 33, of McMurray Aviation and student Amjed Ahmed, 32, died after their 172 was T-boned by the 185 in the practice area northeast of the airport.
The floats of the 185 sheared off the left wing of the 172 before plunging through the cabin and empennage. The impact dislodged both floats and the left one came off entirely. The famous video showed the unidentified floatplane pilot safely setting the crippled aircraft on the grass midfield at Fort McMurray.
The TSB says the accident highlights the limitations of "see and avoid" collision prevention particularly when pilot workload is high. The 185 pilot was in contact with air traffic control and setting up for landing while the student and instructor were practicing climbing turns.
Investigators found the cause of the accident was the pilots' inability to see each other's aircraft.
"If visual flight rules aircraft are not equipped with aircraft collision avoidance systems, it is highly likely that accidents will continue to occur due to the inherent limitations of the see-and-avoid technique of collision avoidance," the TSB found.