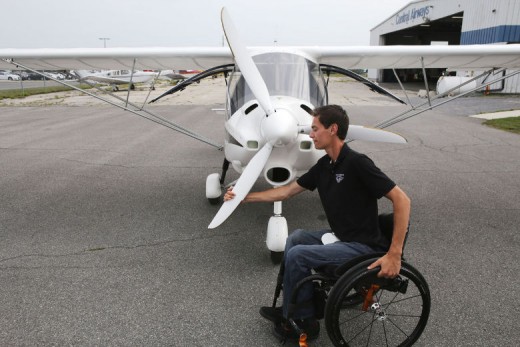 A 20-year-old  pilot who uses a wheelchair has opened a flight school at Norman Rogers Airport in Kingston.
Zach Elliot was paralyzed in a car accident two years ago but in August he took delivery of an Ikarus C24 with hand controls and is now taking students at his new school.
"I would not have imagined that I would be flying this soon again," he told the Kingston Whig Standard at the grand opening of Ontario Advanced Ultralights. "Two years ago, I thought, kind of, life was over."
Elliot had been planning a flying career since he was in his early teens and had a private licence at 18. After the accident his family and friends didn't even wait for him to come out of his induced coma before they started researching options for him to continue flying. They found King George Aviation in Surrey, B.C., until this month the only Canadian flight school offering training to those in wheelchairs.
He got his instructor rating through the school and picked up the Ikarus in Florida to start the school.
"Doing this, I get to bring the experience of flying to all other kinds of people and I get to see the joy when they try their first flight. It's not a job at all. It gives me a lot of pride and happiness to see people enjoying what I enjoy," he said.
Ironically, he said it's unlikely he would have been flying for a living by age 20 if his life had gone according to plan.
"It actually has been a blessing in disguise," he told the Whig Standard. "I wouldn't have been able to do all this if it wasn't for the accident."