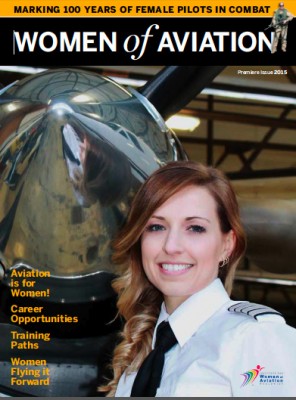 Canadian Aviator has just finished a special supplement aimed at encouraging women to get involved in aviation.
The Women of Aviation publication will be included with the March/April edition of the magazine and 5,000 extra copies were printed to distribute at Women of Aviation Worldwide events in early March.
The supplement was produced in cooperation with WOAW and features articles on the many opportunities opening up in aviation, stressing the fact that they are all open to women equally with men. It also features profiles of six women members of the RCAF doing a variety of jobs in aviation.
Canadian Aviator Editor Russ Niles said the publication is a call-out to women and girls and also to the industry to start addressing the gender imbalance in aviation. "It's ridiculous, in 2015, to hear that girls still believe that aviation jobs are for men," he said. "This is our attempt to show girls and women the opportunities they have and it's a wakeup call to the industry to start actively recruiting women as a way to address a looming labour shortage."
The publication will also be available online about Feb. 15.