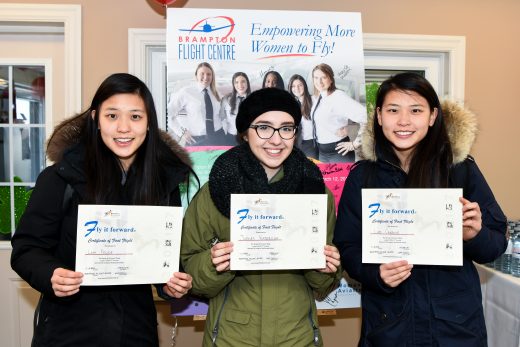 Canadian volunteers staged 17 events in the annual Women of Aviation Worldwide Week in early March as part of a global effort to expose women to aviation.
A total of 53,000 girls and women at 148 events all over the world jumped at the opportunity to visit local industry facilities, attend multi-faceted events, meet female role models, try various skills, hands-on, and check out static aircraft displays. A total of 9,056, went on a Fly It Forward flight – an introductory flight for women and girls who have not previously flown on any small aircraft.
The week organized by the Institute for Women Of Aviation Worldwide (iWOAW) aims to address the air and space's industry deeply rooted gender imbalance by inviting girls of all ages to discover the industry's careers and hobbies within a welcoming environment and familiarizing them with women's past and present contributions.
Studies and iWOAW's annual feedback surveys show that women and girls are unlikely to consider the industry's technical careers traditionally presented as men's jobs without an explicit invitation to do so.
Since 2010, iWOAW's Fly It Forward Challenge and Women Of Aviation Worldwide Week initiatives have successfully changed perceptions. For more than 80 percent of nearly 200,000 participants to date, the impact went beyond a perception shift; it was life changing. In fact, 64% are now considering a career or hobby in the industry.
No participating airport anywhere in the world introduced more women and girls to flying than Albuquerque International Sunport did. It wins the 2017 Most Female Pilot Friendly Airport Worldwide title. Runner ups in the airport category are the Lachute Airport, QC, Canada and the Brampton-Caledon Airport, ON, Canada.
Hosting a one-day event including a fully fledged conference, many industry booths, activities spanning across two airports and coordinating as many as 170 flight introductions per hour, Marguerite Varin of Lachute, QC, Canada is this year's Most Productive Organizer Worldwide in the flying event category.