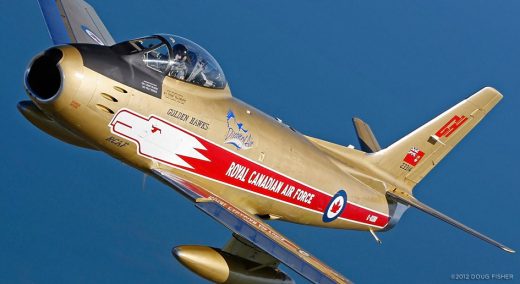 Vintage Wings of Canada is selling Hawk One, its Canadair MK-V Sabre that has been used as an air demonstration aircraft since 2009.
The airplane was originally restored as a tribute to the centennial of powered flight in Canada in 2009. Vintage Wings has flown the aircraft at air shows in the intervening years but it hasn't flown since 2015.
It was flown by astronaut Chris Hadfield at the reenactment of the flight of the Silver Dart in Baddeck, Nova Scotia, in 2009.
The nonprofit foundation that ran Vintage Wings' flight ops has been restructured and it would appear the notoriously thirsty Sabre is a casualty of that. The aircraft is being sold by Courtesy Aircraft Sales in Rockford, Illinois.
The Sabre in question was built in Canada and has the more powerful Orenda 14 engine that is favoured by fans of the airplane. It served in the Royal Canadian Air Force until 1968.
The airplane was owned by EAA in the 1990s and flown in U.S. Air Force colours. The aircraft has had a lot of work, including a rebuilt engine, modern avionics, updated ejection seat and dozens of other items far exceeding the asking price of $1 million CAD. It has 3,506 hours TT and 363 hours since its restoration.