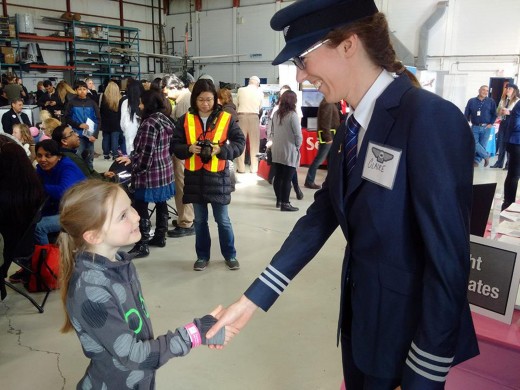 The sixth Women of Aviation Worldwide Week attracted 44,000 participants worldwide  and Canada hosted 21 of the 120 events held on four continents.
The Canadian events were held in six provinces and attracted hundreds of participants.
Quebec pilot Yves Barbeau was named the Most Supportive Male Pilot for his volunteer effort in flying girls and women on their first trips in small aircraft.
Canadian events at Lachute, Quebec and Peterborough, Ontario were runners up in the top prize of Most Female Pilot Friendly Airport Worldwide behind the winner South Texas International in Edinburgh, Texas.
WOAW emphasizes tangible results from the activities it sanctions during each week and founder Mireille Goyer said that's the way to build the female pilot population.
"With mostly stagnating women of aviation populations, inspiring is not enough. The goal is to encourage tangible action," she said. "Our survey show that 23 percent are more than just inspired; they are starting their training, immediately."
WOAW will hold its first annual symposium in Vancouver on May 26 and the major awards from this week will be handed out.
The seventh event week will be held from March 6-12 and will mark Hanna Reitsch's first flight in a helicopter in 1937. The theme is "Let's whirl: 80 years of female helicopter pilots.