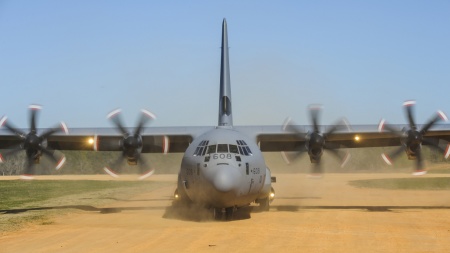 The Royal Canadian Air Force, oil company aircraft and numerous other carriers and private operators are helping deal with the catastrophic fire in Fort McMurray.
Prime Minister Justin Trudeau has pledged the full support of the RCAF to help with air transportation needs in the oil community.
There are four Griffon helicopters already on the scene and a C-130 on standby at CFB Cold Lake, about 200 miles south of the stricken city. Another C-130 is standing by at its base in Trenton, Ontario in case it's needed.
The Air Force deployment is in early stages and expected to grow dramatically.
"That is very much just the tip of the spear," said Brig.-Gen. Wayne Eyre, commander of Joint Task Force West based in Edmonton. "We have many more working on planning, and standing by, should the call come."
One of the challenges is that Fort McMurray Airport has been closed because of the fire so the Hercs, which can land on unimproved surfaces, have been called in.
There are also private runways used by oil companies for moving personnel that may come into play. They can take airliner-sized aircraft if needed for evacuations.
There is a large flight restricted area in place around Fort McMurray to accommodate air tanker traffic.