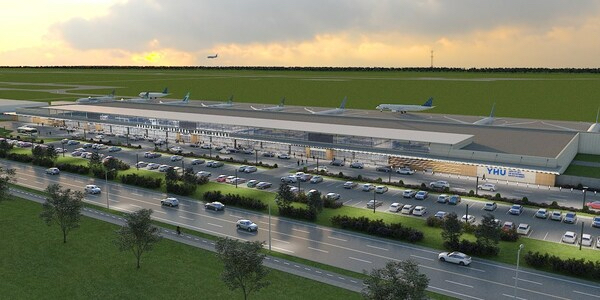 Toronto's Porter Aviation Holdings Inc. (PAHI) has entered into a partnership with the operators of Longueil, Quebec's Saint-Hubert Airport (CYHU) that will see the construction of a passenger terminal designed to handle up to four million passengers a year. Longueil is located across the St. Lawrence River from Montreal. Porter envisions direct flights not only to Toronto's Pearson and Billy Bishop airports to Saint-Hubert, but to Vancouver and St. John's, Newfoundland too. Porter says that it will continue to operate flights into and out of Montreal's Dorval airport from Toronto.
Porter will draw upon its success at building a popular passenger terminal at Billy Bishop airport, also known as Toronto City Centre airport (CYTZ).
"Saint-Hubert has incredible potential as a complementary secondary airport for Montréal, with a convenient location for a significant portion of the local market and also easy access to downtown Montréal," PAHI CEO Michael Deluce said in a press release.
"With an ambitious fleet plan, latest generation aircraft and an established airport management track record, Porter is the perfect match for the Montreal Saint-Hubert Airport," added Saint-Hubert managing director Yanic Roy.
Pascan Aviation, a regional airline based at Saint-Hubert, will also have access to the terminal. Porter and Pascan have announced their intention to enter into a code-share agreement.
Construction is to begin this year and finish before the end of 2024.