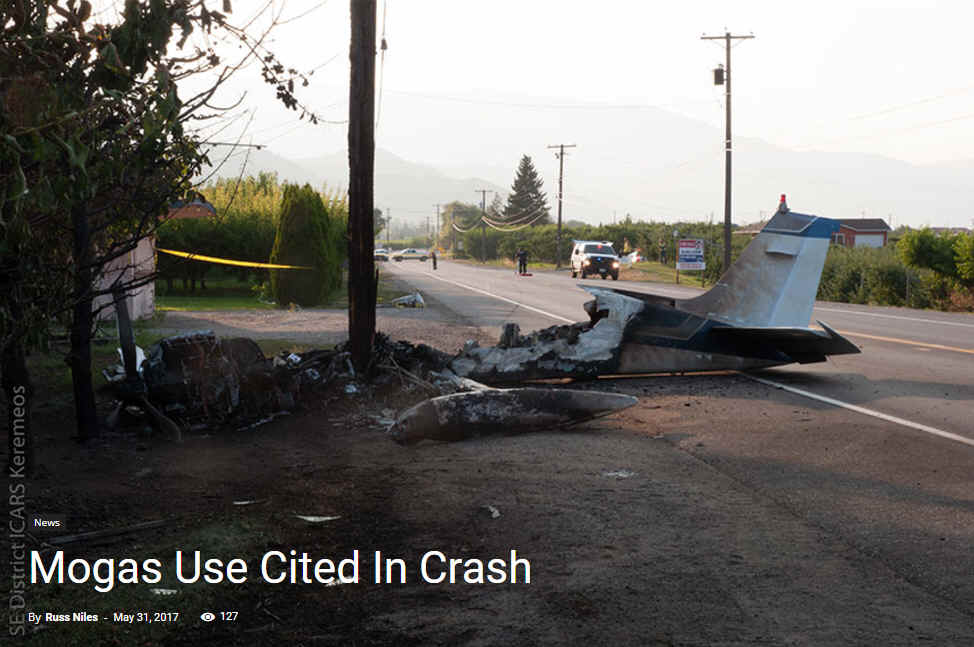 The non-certified use of mogas in a turbonormalized Beech Bonanza was cited as a risk factor in the forced landing and subsequent fire that destroyed the aircraft and badly burned its pilot in Osoyoos, B.C. in July of 2015. In a report issued last week, the Transportation Safety Board said the aircraft owner's frequent use of automotive fuel may have been a contributing factor in the vapour lock that caused the engine to quit as the aircraft was climbing out from nearby Oliver Airport. "If automotive gasoline is used in aircraft that are not certified for its use, there is an increased risk of engine power loss due to fuel delivery issues such as vapour lock," the report said.
According to the report, the pilot frequently used mogas in his aircraft even though Bonanzas are not certified to use that type of fuel. Mogas is more volatile than 100LL and more prone to vapour lock. The pilot told investigators he'd had interruptions in power before but had always been able to get the engine running normally by adjusting the mixture. After filling up with 100LL at Oliver, he took off on a hot afternoon with a mix of fuels in the tanks and headed for his base of Boundary Bay Airport near Vancouver. While climbing through 6,000 feet, the engine quit and he couldn't restart it. He tried to make the Osoyoos Airport but the TSB report said the time he spent trying to restart the engine put the runway out of reach and he settled for Highway 97 just north of the small city.
The aircraft landed hard, hit a truck and a pole and the spilling fuel caused a big fire. The passenger cabin was largely untouched and the pilot escaped but he was burned by the fire. The emergency locator transmitter did not activate.