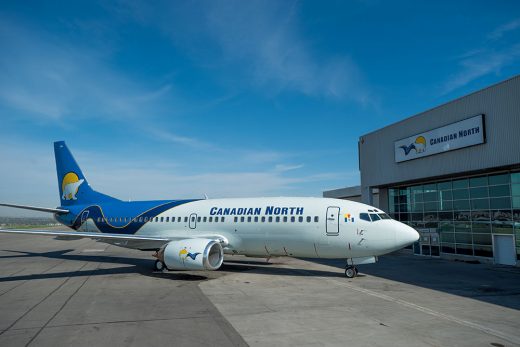 Canadian North is bringing its aircraft maintenance in house with the establishment of a 90,000 square foot comprehensive facility in Edmonton. The multi-million-dollar plant will be able to handle all the maintenance requirements of the airline's fleet of Boeing 737-200, 300 and Dash-8 aircraft. It will also have the capacity to fix and maintain aircraft owned by other carriers with the ability to address the special challenges of flying in the North.
"Canadian North's establishment of its own MMRO facility at EIA is a major step forward for both Canadian North and Edmonton," said Steve Hankirk, President of Canadian North. "We will now be able to maintain our Boeing 737 and Bombardier Dash 8 aircraft more efficiently, and by offering access to our highly trained team members and well-equipped facility to other airlines, we'll be helping to position Edmonton as a leading aerospace maintenance hub, stimulating even more economic activity in the region."
The airline is now looking to hire 30 skilled technicians to man the facility and details of the positions are available on their Web site. The new facility continues Canadian North's drive for self sufficiency and follows the establishment of a comprehensive training centre in Edmonton allowing it to complete all its own training and proficiency checks in-house. In addition to scheduled service, the airline flies charters throughout North America.