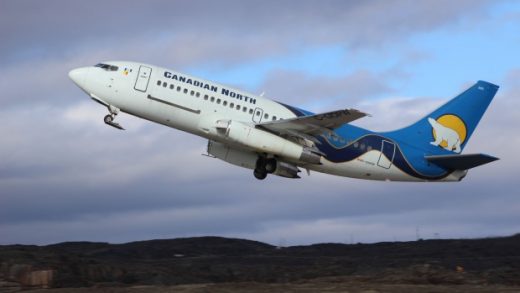 An ancient airframe at home on unimproved strips in the Arctic is employing its unique capabilities in much different environment for the next while. Canadian North has dispatched one of its Boeing 737-200 aircraft to the Caribbean to be used for hurricane relief.
The 50-year-old baby Boeing, with its noisy turbojet engines, was one of the handful equipped with a gravel runway kit and with a combi configuration that allows it to be converted to carry cargo, passengers or a mix of both.
The aircraft was leased by one of the companies arranging specialized support for the hurricane relief effort and will be in the tropics until at least Oct. 8 but could be there for a month or more. The specific missions weren't released but Canadian North staff members interrupted their lives to make the help happen. The airline says 12 pilots, flight attendants, engineers and loadmasters were assembled in 36 hours to make the service happen.
"We scrambled, if you will, to get a team together," Chief Pilot Gerald Skocdopole told the CBC. "We had a lot of support from our employees, a lot of interest to go on short notice.
"It's obvious everyone wants to help whichever way they can."