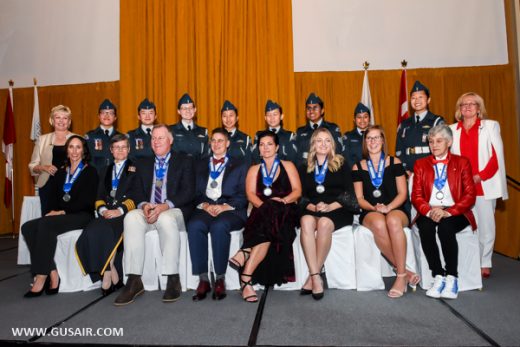 The Northern Lights Aero Foundation presented awards to eight female aviation leaders and up and coming recipients at its annual Gala Sept. 30 in Vaughan, ON. Each year the group recognizes industry veterans for their contributions but also keeps an eye on the future with young women honoured in the Rising Star, and for the first time this year, Aboriginal categories.
Recipients this year were:
Pioneer Award – Major (retired) Dee Brasseur, One of the first 2 female fighter pilots in Canada, flying the F18 Hornet, with 21 years of distinguished service and 2500 hours of flying jets.
Flight Operations Award: Heather McGonigal, Transwest Air's Director of Flight Operations, a Training Captain and a Saab 340 line pilot. A Director for four years at the Air Transportation Association of Canada, she became Chair last year.
Government Award: Colonel (WSE) Helen Wright CD. MD. A Bioscience Officer with the Forces she is one the preeminent aircraft accident investigators with specialized knowledge in Human Factors analysis. She also led a team of aerospace medicine specialists, responsible for the oversight of the aircrew medical fitness of the RCAF. Helen is currently deployed on a one year mission to Bagdad.
Business Award: Heather Bell recently retired as the General Manager of the Vancouver FIR, Flight Information Region (Nav Canada). She has had a 33 year career in Navigation Services. During that time she received both the Chairman's and the President's Award.
Education Award: Joan Williams has more than 30 years in commercial aviation and flight training. She was the Flight Training Manager for Toronto Airways Ltd. for 10 years and then became the Director of Business Development. She is a long time member and Director of the Air Transportation Association of Canada and recently received their Lifetime Achievement Award. Joan has been a mentor and role model for many career pilots flying today.
Engineering Award: Catherine Tsouvaltsidis graduated from space engineering. Currently working Infrastructure Technology Solutions (ITS) for TD Bank, Catherine spent 6 years working in the Canadian Space Sector. There she worked on a variety of different projects including the refurbishment and upgrading of a 46m radio-astronomy dish; design, development and integration of a satellite tracking and monitoring platform; design, development and calibration of a micro-spectrometer aimed to measure soil moisture content from space to be used in large scale soil analysis and farming applications; and the design and development of a UV gas camera used to monitor SO2 volcanic emissions.
Rising Star: Jessalyn Teed is a student at the University of Waterloo (UW) enrolled in the Environmental Studies and Aviation program. In partnership with the UW program, she does her flight training at Waterloo Wellington Flight Centre (WWFC). At UW and WWFC, Jessalyn has taken on a Human Factors Thesis in Aviation studying the Best Practice for Millennials in the Classroom, which targets the aviation industry as the demand for pilots increases and the practices evolve.
Rising Star: Candace McKibbon is a Terminal Duty Officer with the Vancouver Airport Authority and an Operations Agent for Marquis Customer Service at YVR. In addition she is the Executive Director of the BC Aviation Council where she is active promoting aviation throughout the province.
Scholarships for Indigenous Women: Zoey Petit and Kandace Sittchinli were each awarded $5,000 scholarships sponsored by Jazz and the Northern Lights Aero Foundation to pursue aviation-related studies at accredited post secondary or flight training schools.