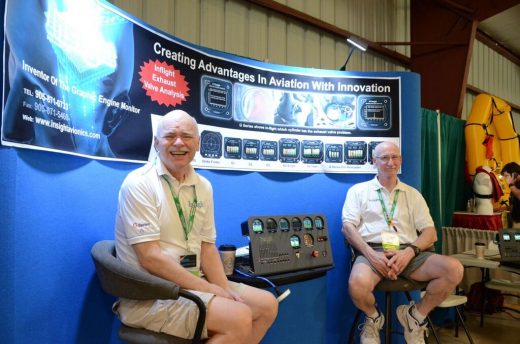 By: Phil Lightstone
In typical Florida weather, Sun 'n Fun opened hot and humid, with a broken ceiling at 3800 feet.  With a record of 510 exhibitors, Canadian participation was at an all-time high with a total of 10 companies exhibiting.  Members of the Buttonville Flying Club from Toronto flew down in record numbers.  Igor Egudkin made his maiden flight with instructor Humberto Villalobos in his late model Cessna 182.  A low-time pilot, Igor used the flight to build instrument time towards his rating.
Sun 'n Fun's direction has shifted to embrace education and careers within aerospace.  The  third annual job fair, saw over 300 applicants, all with pre arranged slot times for interviews with prospective employers.  The new Aerospace Opportunity Centre has been established to create an incubator for aviation startups.  The new AOC brings innovators together with venture capitalists, in an environment focused on aviation.
Patrick Coulter, flying out of Collingwood Ontario, received his private licence a year ago.  Last week he purchased a turbocharged Cirrus SR22.  Coulter's mission at Sun 'n Fun was laser focused on researching a panel upgrade, Avidyne or Garmin,  decisions not for the faint of heart nor the pocketbook.
Insight Instruments of Fort Erie, Ontario  is presenting their line of Canadian designed and manufactured graphic engine monitors, air data computers and lightning detectors.  Insight is working on a new instrument which will revolutionize older aircraft and is awaiting Transport Canada certification.
Companies offering ADS-B products were everywhere.  OpenFlight Solution's FlightBox now incorporates AHRS. With plug and play versatility, FlightBox easily displays traffic, weather and attitude information to EFB's such as ForeFlight and WingX.  FlightBox can be purchased in a some assembly required kit or full built.