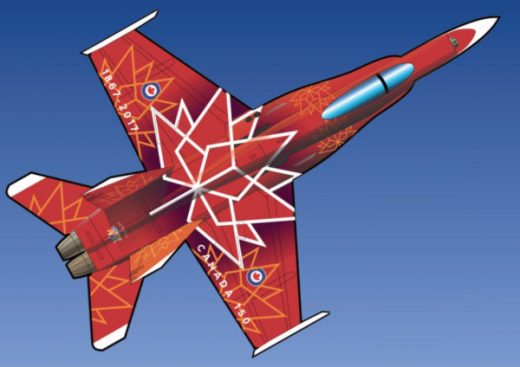 The RCAF has revealed a complex paint scheme for its 2017 CF-18 demonstration aircraft to commemorate the 150th anniversary of the country.
The entire top side of the aircraft will be covered in a celebratory motif replete with stylized maple leafs.
It's one of the most elaborate paint schemes devised for the aircraft, which has become a hallmark of the team's annual contribution to the air show circuit.
The scheme was unveiled at the International Council of Air Shows annual meeting in Las Vegas earlier this month.
The team's schedule was also released and includes stops at all the major Canadian shows, small town appearances in places like Dundurn, Saskatchewan and Grand Forks, B.C. along with six dates in the U.S.