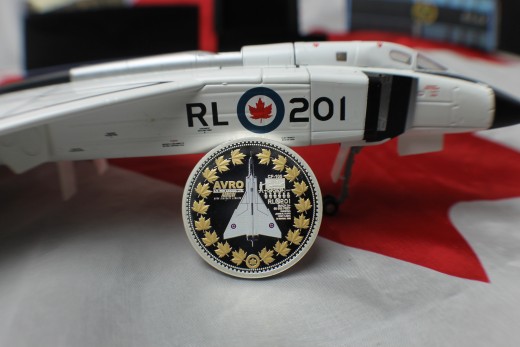 The Avro Arrow program was probably Canadian aerospace's most important accomplishment, and an Edmonton man has immortalized it with a commemorative coin.
Designer and artist Joe Green has made it his mission to commemorate Canada's aviation achievements. Now Green has begun minting coins telling the story and the history of the Royal Canadian Air Force, the men and women who served, the aircraft flown, the battles fought, the honours earned, and the history made. The Arrow was Green's first design, and it sold out quickly.
"This first coin is a tribute to those who designed and built the Avro Arrow, the Royal Canadian Air Force and Canadian Armed Forces as a whole, and dedicated to those incredibly brave men and women who have served, those serving, and those who will serve in the future. These coins must live up to the elite standards the Canadian Forces are well known for, or I won't authorize them," Green says.
Green is creating the coins through his Beaverworks Mint, of which he is president and chief designer. The coins are one Troy ounce of fine silver with select gold plate and full-colour printing and are being produced under sub-license with the permission of the Royal Canadian Air Force Association.
The next coins he plans to produce will be the famous Silver Dart, the first aircraft flown in the British Empire in Baddeck, Nova Scotia by J. A. D. McCurdy in 1909; the Supermarine Spitfire and Hawker Hurricane for the Battle of Britain; the Avro Lancaster bomber; and the CF-18 Hornet.
Proceeds from the sale of the Arrow and future coins will be reinvested into expanding the catalog and working toward expanding to offer coins that honour the Canadian Army and Royal Canadian Navy.