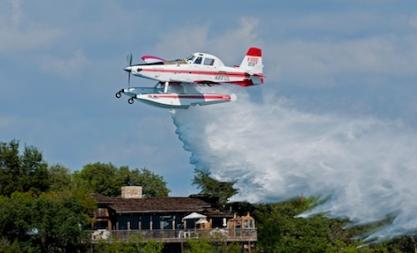 The government of the Northwest Territories is replacing its ancient fleet of CL-215 water bombers with eight new Air Tractor 802 Fire Bosses worth $26 million.
The CL-215s have been flying for more than 50 years (the federal government gave them to NWT in 1969) and are powered by radial piston engines. The government considered upgrading the iconic flying boats but the math didn't work.
"I think the cost of doing that, from everything I've seen, would have been four times or five times the cost of purchasing these new Fire Bosses," Wally Schumann, the minister of environment and natural resources told the CBC.
The Fire Boss is based on Air Tractor's popular turboprop ag platform and features amphibious floats that can pick up 800 gallons of water from just about any body of water near the fire. The much larger and more complex CL-215 only carries 300 gallons more.
With all the lakes and rivers in the territory and the long distances between long paved runways, the scoop and drop model works best in the North.
In addition to saving money on the upgrades to the CL-215s, the government will save on operations because the Fire Bosses are single-pilot aircraft. They also burn much more readily available jet fuel instead of the 100LL used by the old radials.
The aircraft will be delivered in time for the 2017 fire season.