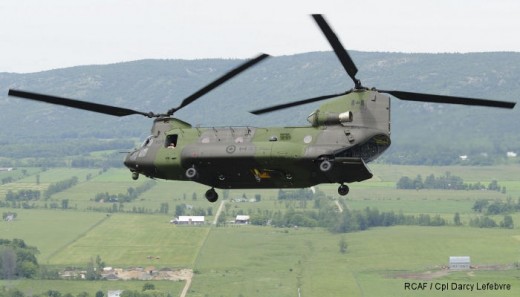 The first class of Canadian-trained CF-17 Chinook crew members has graduated from 450 Tactical Helicopter Squadron's brand new training facility at Garrison Petawawa.
The six pilots, two flight engineers and two loadmasters were recognized at a ceremony at the base last Monday.
Previously, crew members were trained by Boeing pilots and had to travel to do simulator and other types of training at facilities run by  the U.S. Army and other military operators of the big twin rotor aircraft.
This class was completely trained at the $130 million facility at Petawawa. In addition to classrooms, ops centre and other facilities, the training centre boasts four simulators.
"This is a really big deal," said Lt. Col. Chris McKenna in front of a large crowd of well wishers at the ceremony.
The flight training takes five months and includes simulator and stick time in all facets of operational flying.
The RCAF has 15 new Chinooks and they were purchased in 2013 and 2014.