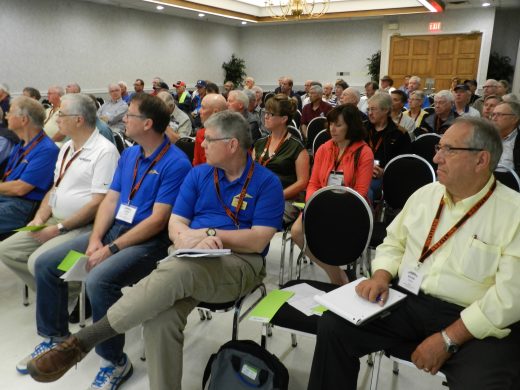 Canadian astronaut Chris Hadfield has agreed to become the official spokesman of the Canadian Owners and Pilots Association.
The announcement was made in front of more than 150 people attending the Canadian Owners and Pilots Association (COPA) annual general meeting in Yarmouth, Nova Scotia June 24-25.
In a video message to the delegates, Hadfield said he pleased to be affiliated with the group and said how important it was to have organizations like Canada to foster professionalism and discuss the changing aviation industry.
Quebec member of the board of directors Jean Messier was elected chairman, replacing outgoing chair Trekker Armstrong. Messier will be joined on the executive by Western Vice Chair Bram Tilroe, Eastern Vice Chair Brian Chappell, Secretary Jim Bell and Treasurer Jonathan Beauchesne.
Board members are Shane Armstrong, Saskatchewan; Larry Biever, Alberta and NWT; Tim Cole, B.C. and Yukon; Phil Englisheman, Southern Ontario; Conrad Hatcher, Southern Ontario; Ray Hawco, Newfoundland and Labrador; Joe Hessberger, B.C. and Yukon; Cheryl Marek, Southern Ontario; Brian Pound, Maritimes and Lloyd Richards, Northern Ontario. John Bogie remains an honourary director.
President and CEO Bernard Gervais outlined various COPA initiatives including outsourcing the organization's publication COPA Flight to Canadian Aviator Publishing. The first issue of the new magazine format, featuring Hadfield on the cover, was distributed to the group.
Delegates, board members and staff were treated to an old fashioned Maritimes kitchen party on June 23, an airport barbecue June 24 and a luncheon on June 25.
Next year's meeting is in Kelowna, B.C.