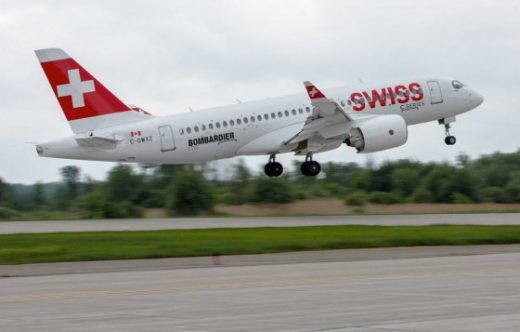 Bombardier handed over the first operational CSeries airliner to launch customer Swiss International Airlines on Wednesday marking the end of a difficult development program that stretched the company's resources.
The first revenue flight of the CSeries will be in early July. SWISS is  replacing its fleet of Avro Regional Jets with the CSeries. It's buying at least 30 aircraft and has options on 30 more.
SWISS will get one aircraft a month over the next three months and then production will go to two planes a month.
The ceremony at Mirabel came after Air Canada confirmed it will buy 45 CSeries and take options on 30 more after threatening to walk away from the deal.
Kevin Howlett, Air Canada's senior VP for government affairs told a Senate committee that if the government didn't pass legislation allowing it to perform aircraft maintenance in other countries that it would kick the table over on the CSeries deal.
"The point around this is that we are not prepared to make that scope of a financial commitment in an environment of legal uncertainty," he said.
"There are alternatives to the CSeries, as I'm sure you know. There are other manufacturers that make comparable airplanes."
The comments laid to rest any lingering doubts that buying CSeries was a straight trade for the relaxed maintenance rules. When Air Canada was privatized, the government of the day passed legislation requiring the airline to keep its heavy maintenance facilities in Montreal, Toronto and Winnipeg.
The new laws will relax those requirements and end lawsuits filed by Quebec and Manitoba when Air Canada closed its maintenance facilities and contract the work to offshore companies.
Howlett threw down another gauntlet by threatening to cancel plans for limited maintenance operations in Winnipeg and Montreal offered as an olive branch in the tense negotiations.
"What I can tell you is if this bill does not go forward, we will not create the centres of excellence in Manitoba and we will not create the centres of excellence in Quebec," Howlett said.