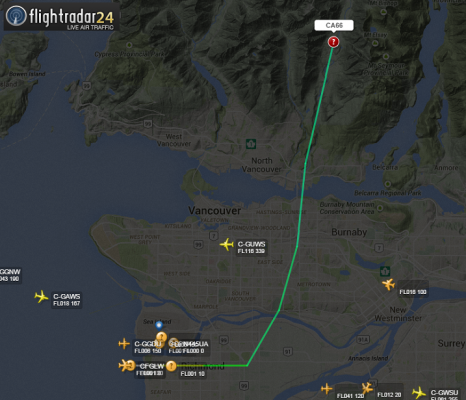 The B.C. Coroner's Service says the captain of a Carson Air Metroliner that crashed just north of Vancouver April 13 had five times the legal driving limit of alcohol in his system.
The service said tests performed on Robert Brandt, 34, revealed a blood alcohol content of almost .24 percent. The level at which police in B.C. can issue a roadside suspension is .05 percent and Transport Canada rules say that no pilot is allowed to drink alcohol within eight hours of flying.
The Metroliner took off from Vancouver International Airport at 7 a.m. bound for Prince George and crashed a few minutes later on Mt. Coliseum. Radar tracked the aircraft in a near vertical descent, losing 8,000 feet in 20 seconds before the crash.
The first officer on the flight, Kevin Wang, 32, did not have any drugs or alcohol in his system.
The aircraft was carrying cargo. No distress call was received. Earlier reports suggested an in-flight break-up occurred before impact.