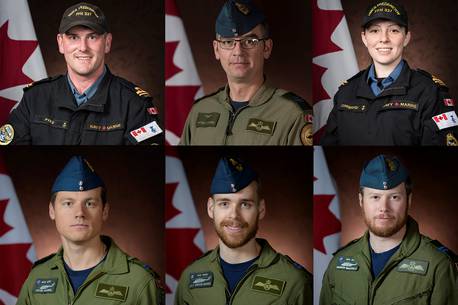 The Canadian Forces has released the names of the six Air Force and Navy personnel lost in the crash of Cyclone helicopter off Greece on Thursday.  The helicopter was attached to HMCS Fredericton, which is taking part in a NATO operation in the Mediterranean.  The dead servicemen and servicewoman are:
Capt. Brenden Ian MacDonald, pilot, originally from New Glasgow, NS.
Capt. Kevin Hagen, pilot, originally from Nanaimo, BC.
Capt. Maxime Miron-Morin, air combat systems officer, originally from Trois-Rivières, Que.
Sub-Lt. Matthew Pyke, naval weapons officer, originally from Truro, NS.
Master Cpl. Matthew Cousins, airborne electronic sensor operator, originally from Guelph, Ont.
Sub-Lt. Abbigail Cowbrough, a marine systems engineering officer, oiginally from Toronto.