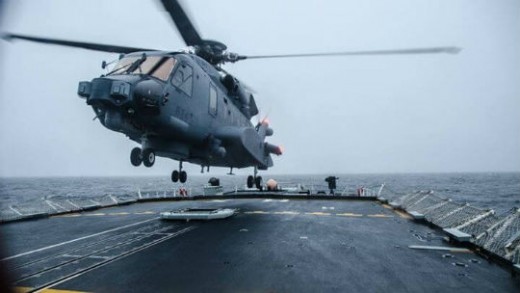 The RCAF continues to make progress replacing its old Sea King helicopters with the new Sikorsky CH-148 ship-borne helicopter.
Last week an all RCAF crew landed one of the aircraft on the deck of the Navy frigate HMCS Halifax. The Cyclone is undergoing tests by the RCAF's Helicopter Operational Test and Evaluation Facility. The RCAF accepted six of the high-tech helicopters for training and evaluation. As future airframes are delivered they will come with the gear and weapons to make them fully deployable.
The helicopters have been landing on the Halifax for about a year but last week's operation was the first time the RCAF personnel did it themselves. Pilots from 12 Wing Shearwater were doing deck qualification training.
They'll get plenty of practice in coming months as the landing was a prelude to a sea deployment for more testing and evaluation.
The Cyclone will replace the CH-124 Sea King, which has toiled more than 50 years as Canada's ship-borne helicopter. The current plan is for the Sea Kings to continue flying until 2018.