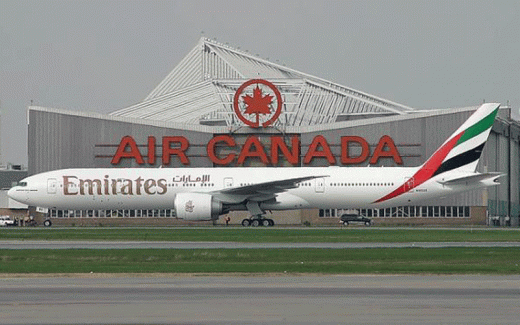 Emirates Air, whose global expansion has caused controversy in several countries, has held pilot recruitment events in Toronto and Calgary in recent weeks, even though attracting pilots doesn't seem to be a problem for the airline.
The airline, which flies one of the most modern and lavishly equipped fleets in the world, has been trying to get more flights to Canada and there is speculation the recruitment is targeted to bolster those expansion efforts.
Transport Canada must approve flights from international carriers and its guiding principle is the amount of service demand there is for the country of origin of the airlines requesting the routes.
The government has said repeatedly that Emirates and other middle eastern airlines, which are heavily supported by their oil-rich governments, want far more flights than is necessary to fill that demand. Domestic carriers accuse those airlines of trying to poach lucrative long-haul traffic by routing through their home countries, as required by international agreements, to popular destinations in Asia, the southern hemisphere and Europe.
Don McWilliam, the airline's country manager for Canada says Emirates is always recruiting all over the world.
We are in Canada, not only from a pilot perspective but a flight attendants' perspective, many times throughout the year looking for potential candidates to come to Dubai," he told the Calgary Herald.
Emirates is now allowed to operate three flights a week between Toronto and Dubai.
"Emirates' position is quite public and has been for some time. Everybody knows our position in terms of not just Calgary but all of Canada. We would like to see increased capacity into Canada from the UAE (United Arab Emirates),"  McWilliam told the Herald. "But currently, and previously, those decisions really lay in the hands of the government officials with the Canadian government as well as the UAE. Of course, Calgary is a destination that we have quite clearly stated that we're very interested in."