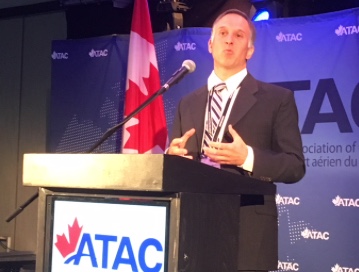 Transport Canada is now reviewing comments on its controversial proposal to amend crew rest standards for commercial pilots.
Transport Minister Marc Garneau told delegates to the Air Transport Association of Canada meeting in Montreal this week that the changes bring Canada more in line with international standards and are aimed at improving safety.
But many of the delegates attending believe the new rules are tailored for long-haul airlines and ignore the challenges of smaller operators, particularly those in the North.
In general, the proposed rules reduce the number of hours pilots can fly to 1,000 a year and reduce the duty day from 14 hours to between nine and 13 hours, depending on when they occur. The greatest restriction occurs between midnight and four a.m., the so-called circadian low period when humans are most likely to make fatigue-related errors.
Air North President Joe Sparling said the "one-size-fits-all" approach of the new rules will increase costs, and therefore air fares in the North.
Garneau disputed Sparling's claim and said there is flexibility in the new regs, including the ability to extend hours under special circumstances. Operators can also create their own fatigue risk management system that incorporates their own operational requirements but achieves a matching level of operational safety as the written regs. He also noted they will be phased in over four years for smaller operators.
The regs were issued in the Canada Gazette on July 1 and the comment period has closed. The final regs will be released in coming months.