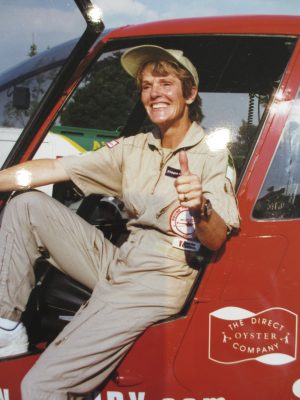 It was 1937 when Hanna Reitsch took the controls of a Focke-Achgelis 61 helicopter and became the world's first female helicopter pilot. In celebration, the theme for the seventh annual Women Of Aviation Worldwide Week, March 6-12, 2017, will be "Let's whirl. 80 years of female helicopter pilots."
Introducing girls of all ages to helicopters has always been an important part of Women Of Aviation Worldwide Week. Since 2010, nearly 20% of the Week's 30,074 documented Fly It Forward® flights took place onboard helicopters.
Male and female helicopter pilots from Quebec, Manitoba, the Northwest Territories, British Columbia, Washington State, and Texas have won the Week's Most Dedicated Female Pilot Worldwide or Most Supportive Male Pilot Worldwide titles over the years. Every year in Lachute, Quebec, girls board helicopters for their first small aircraft flight and land at the Bell Helicopter factory in Mirabel to visit it. The armed forces around the globe have flown helicopters and crew at many of the week's events over the years.
To celebrate Hanna Reitsch's breakthrough and highlight helicopter aviation, the Institute for Women Of Aviation Worldwide (iWOAW) will broadcast interviews of women involved in all aspects of helicopter manufacturing and operations throughout the Week and encouraged event organizers to share them with their local guests.
Moreover, Jennifer Murray, who became the first woman to fly around the world in a helicopter and the first woman to fly over both poles, will be the featured guest speaker at the annual Fly It Forward® Award Luncheon during the iWOAW Symposium held in Vancouver, BC, on May 25, 2017. She will also help present the Fly It Forward® Challenge trophies to the communities and individuals who won them during the 7th annual Women Of Aviation Worldwide Week.