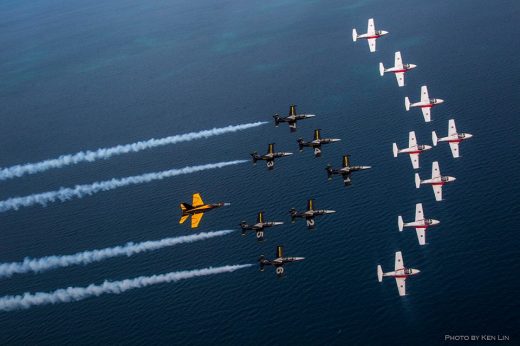 The RCAF CF-18 demo team, the Snowbirds and the Breitling Jet Team represent perhaps the epitome of formation aerobatics skill and grace so what happens when they pool their talents?
Photographer Ken Lin got a rare chance to photograph the result during media day at the Canadian International Airshow.
The two teams and the solo CF-18 formed up into a 15-jet formation over Lake Ontario with media in many of the planes.
The organizational task was enormous beyond the flying element.
Since all of the aircraft have ejection seats, all of the reporters had to have medicals and go through ejection seat training.
Meanwhile, the pilots needed to coordinate the flight with safety as a top priority in some of the busiest airspace in North America.
Through extensive coordination with NavCanada and Transport Canada, a flight plan was devised.
Snowbirds commander Maj. Yannick Gregoire had another issue to consider. One of his pilots was unavailable to fly so he had to organize his normally nine-member team into a formation of eight.
It all went off without a hitch and the photographic result was stunning.