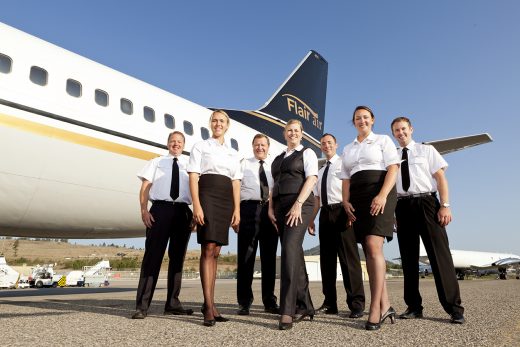 Upstart ultra low cost carrier Flair Airlines is girding for the fight of its short life as it adds capacity to meet the formidable challenge that WestJet's new entry into that market will bring.
Swoosh will begin operations in the summer of 2018 but by that time Flair will have grown to seven third-generation Boeing 737-400 aircraft and added 40 percent more flights. It currently flies five aircraft and has gained some traction serving secondary markets with the no-frills model.
"We are gearing up for a busy 2018 season by completing maintenance inspections and aircraft rebranding this winter," says Jim Rogers, CEO of Flair Airlines.  "Flair offers passengers excellent value for their money and we are continually analyzing cost-saving measures to keep our prices low."
The airline hopes to fly a million passengers in 2018 and will empasize growth with the low-hanging fruit of southwestern Ontario and gateway U.S. destinations, an apparent response to budget U.S. carriers who are poaching Canadian travelers from border airports in New York and Washington State.
The 20-year-old 400 series won't arrive until 2018 but Flair is already talking about adding 189-passenger 737-800s, which are becoming widely available as mainline carriers incorporate the new 737 MAX to their fleets.