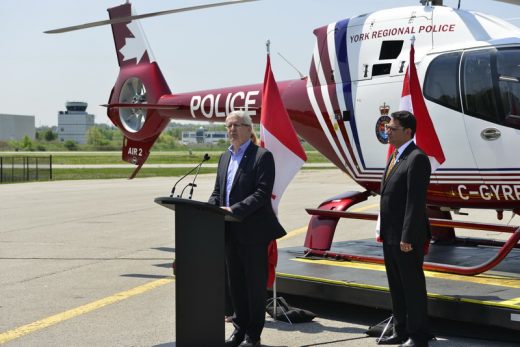 By Michael J. Martin
Transport Minister Marc Garneau re-iterated his government's concerns about laser attacks on aircraft but didn't announce any new measures to combat the reckless practice at a news conference at Buttonville Airport on Tuesday.
Garneau stated that in 2015, nearly 600 laser strike incidents were reported to Transport Canada, an increase from the 502 incidents reported in 2014. In 2016, that number stands at 148 incidents, from January to April.
"Pointing a laser at an aircraft is not only a reckless act that puts people at unnecessary risk, it's simply not a bright idea. As Minister of Transport, I take this type of behaviour seriously because Canadians and their families deserve to feel safe while flying. We want people to know there are serious consequences, including $100,000 in fines and up to five years in prison. Transport Canada and law enforcement across the country are working together to ensure offenders face the fullest force of the law" said Minister Garneau.
Lasers can distract pilots, causing glare that affects their vision, or temporarily blind them. "Members of the York Regional Police Air Support Unit know all too well the dangers of being struck by a laser beam. When up in the air, our pilots need their full attention to be on the task at hand – flying safely. They can't do that when they are distracted by lights being directed into the cockpit. At best, lasers are a distraction for pilot, but at worst, they can temporarily blind them, risking everyone's safety" says Chief Eric Jolliffe, Chief of Police, York Regional Police.
Minister Garneau said that Transport Canada is continuing with its education efforts under the program called, "Not a Bright Idea". Lasers place the pilots, passengers, and people on the ground at risk of injury or death. This education campaign is focused on getting the word out about the risks and the seriousness of this activity. Garneau said that education is essential as he thinks most people are simply not aware of the potential for harm that these lasers can cause to a pilot during the most critical phases of flight when landing or departing airports. He warned that the police will prosecute to the full extend of the law. Parents, teachers, and product distributors need to teach children that laser pens are not toys and are in fact dangerous weapons to aviation. Health Canada warns that so called, "flash blindness" can temporarily blind a pilot much like a camera flash can cause temporary retention of the burst of light in your eyes. So, understanding, education, and appreciation of the impacts will build awareness and help to reduce this problem.