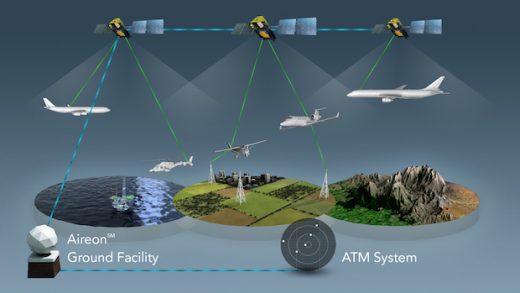 Aireon's satellite-based aircraft tracking system has passed a reliability test with the Irish Aviation Authority. The company has partnered with Nav Canada to develop the worldwide system that would keep tabs on any aircraft with ADS-B Out.
The equipment test was a major milestone toward building the system that will be offered on contract with air navigation services providers but will also maintain a free emergency tracking service for aircraft in trouble.
The system will be based in Ireland and the Irish are among the first customers.
"This first milestone marks a significant advancement for the IAA in deploying space-based ADS-B in Irish airspace. This also moves us one step closer to rolling out Aireon ALERT to the world's aviation stakeholders and search and rescue organizations," said Peter Kearney, Director ATM Strategy and Operations, IAA.
"With the success of the Factory Acceptance Test, we are moving towards providing this free public service for registered aviation stakeholders – with real-time tracking data – the likes of which have never been available globally to the industry before. Our engineering team is rapidly working to ensure that Aireon ALERT will be fully operational in when it's time to go live in 2018."
NavCanada is a 50 percent partner in the program and will use the system in its own airspace.