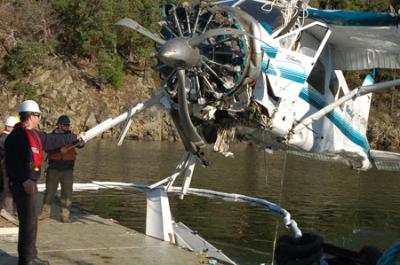 Transport Minister Marc Garneau is proposing that all passengers and crew aboard commercial float planes wear life vests.
In a statement released on Friday, Garneau said the proposal is being made in reaction to an investigation into the fatal crash of a crash in 2009 that killed six of eight people aboard. The Beaver crashed near Saturna Island in B.C.'s Gulf Islands and all those who died survived the crash but drowned in the cabin.
The Transportation Safety Board made the life vest recommendation in its report and also urged installation of cabin windows that release easily in an emergency.
"I'm pleased Canada continues to be an international leader in aviation safety by becoming the first country to propose the mandatory wearing of flotation devices on seaplanes," said Garneau in a statement. "Seaplanes offer a unique and convenient way to explore Canada's landscape and to reunite families and friends in remote areas."
A Beaver crash on Lillabelle Lake in Northern Ontario that killed two people also factored into the proposal.
There is a 30-day comment period on the proposed rule.