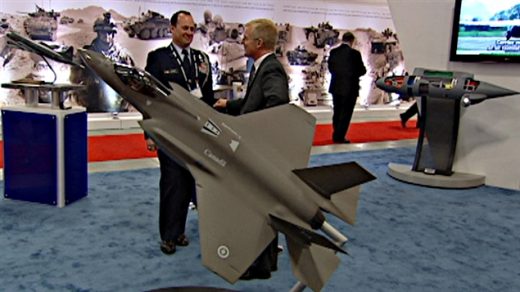 All the major players in the battle to replace Canada's 30-year-old CF-18s are exhibiting at CANSEC, a big military and security trade show in Ottawa this week and they're finding a big audience of federal officials.
The Globe and Mail reported that federal presence was heavy as government officials checked out the simulators and talked to the exhibitors at the show.
Although Prime Minister Justin Trudeau campaigned on a promise to kill plans to by the F-35, Lockheed Martin has a huge presence at the show, including former RCAF pilot Billie Flynn, the program's chief test pilot.
"What I know is that the F-35 program continues to advance and that more countries continue to commit to the airplane with vigour," Flynn told the Globe. "There is no wavering of commitment of the partners in the F-35 program and the momentum continues to be strong."
The F-35's major competition is thought to be the F/A-18 Super Hornet and Boeing is heavily playing up its twin-engine configuration as a safer option.
"It is fundamentally important for the kinds of missions that Canada performs on a day-to-day basis," said Roberto Valla, Boeing's vice-president for Canada.
The underdog is likely Saab's Gripen but Saab spokesman said the company is looking for clarity from the tire-kicking feds.
"At this point, the government really needs to come out and tell us what they are looking for," said Saab's John Belanger.