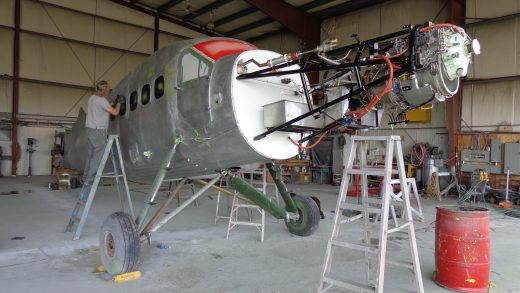 An Ontario company that specializes in turbine Otter conversions has an unusual aircraft collection in its hangar.
Recon Air, in Geraldton, has six of the iconic aircraft in basically the same configuration as when they left de Havilland's plant in the 1950s.
There were only 450 Otters built and only about 100 are still flying. Most have already been rebuilt with turboprop engines, most of the Pratt & Whitney Canada PT-6 engines.
Company President Roy Leuenberger said it's unlikely six classic Otters in flyable condition will ever be in the same place at the same time again.
"A lot of them have disappeared over the years, been damaged beyond repair," Leuenberger told the CBC. "We were just lucky enough to come across several in the area, and we have five piston Otters that are coming into our hangar this winter."
The aircraft will be gutted, fitted with new engines and wired up with the latest avionics and most will end up in Alaska, Leuenberger said.