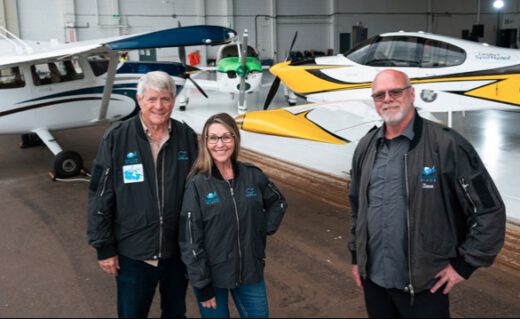 After months of planning, the expedition got off the ground as planned in Victoria, British Columbia on Monday, June 6 with Canadian Aviator publisher Steve Drinkwater leading the first leg to Kelowna where the rest of the expedition was waiting. The wet, cloudy and cool weather that has been plaguing much of southwestern B.C. this spring conspired to keep remaining participants east of the Coast Mountains where senior team members of Hope Air, including CEO Mark Rubinstein, were waiting to provide an official send-off. Local dignitaries were in attendance, along with special guests and Kelowna residents Bristol and her son Henry, direct beneficiaries of the transportation and accommodation services that Hope Air provides for those without the financial means to travel to distant health care facilities for needed treatment or diagnoses. In Henry's case he was able to obtain regular cancer treatment in Vancouver.
Give Hope Wings, a group of volunteer pilots, has set a target to raise at least $1 million this year so that Hope Air can provide more service for those in need. With a satellite tracking device donated by Airbly mounted in Drinkwater's plane, the public can follow the expedition's progress as it continues its flight plan the East Coast before doubling back to Saint-Jean-sur-Richelieu near Montreal.
If you feel like helping the cause, the same webpage has a 'Donate' button where donations can be made. Donations made in June will go twice as far as the Presenting Sponsor Langley Sportsplex will match each donation dollar for dollar, up to a limit of $200,000. A tax receipt is automatically and immediately issued and sent by email to the donor.