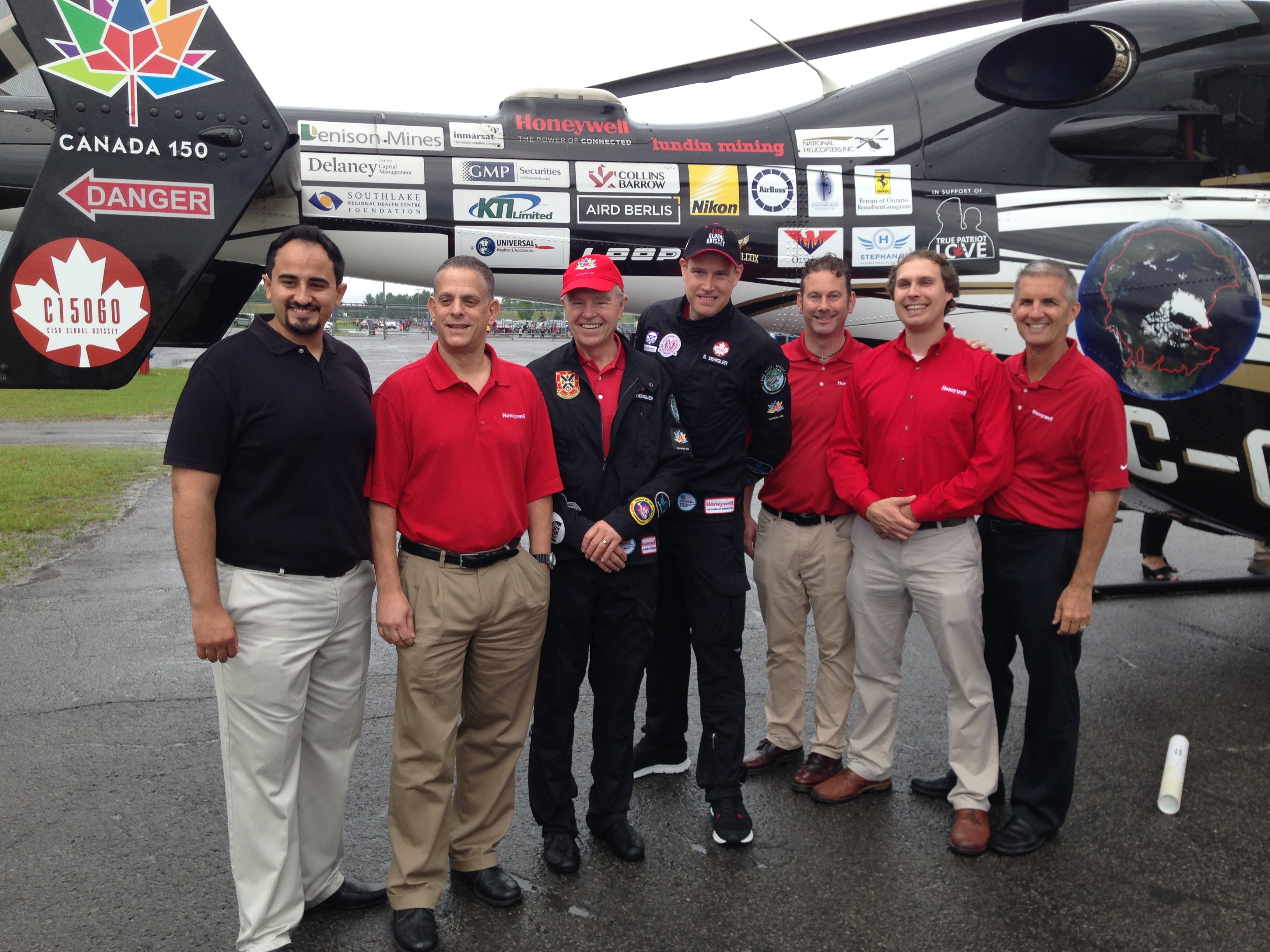 The father-son team of Bob and Steven Dengler are looking to become the first Canadians to circumnavigate the globe in a helicopter. They're doing it to celebrate Canada's 150th anniversary, and they're using as much Canadian content as possible to make it happen.
The official launch of their milestone flight took place at Ottawa's Rockcliffe Airport, from the grounds of the Canada Aviation and Space Museum, on July 1st, the sesquicentennial anniversary of Canadian Confederation. For their flight, the Denglers are using a Bell 429 Global Ranger helicopter manufactured at Bell Helicopter's Mirabel, Quebec, facility. The Global Ranger's power comes from a Pratt & Whitney Canada turboshaft engine manufactured at PWC's Montreal facility.
The crew will be covering their 38,000 kilometre journey with stops in 104 locations outside of Canada and a further 63 stops within Canada. Many of those stops, both in Canada and internationally, will be at historic sites and landmarks, including Baddeck, Nova Scotia – site of the first powered flight in Canada – as well as Vimy, France. A significant portion of their flight will be over Russia where crucial assistance has been provided by Russian authorities that will enable the flight to take place.
"What an honour to carry the flag and spirit of Canada across the country and around the world," said Steven Dengler to a packed atrium of media and well-wishers inside the Canada Aviation and Space Museum prior to the flight's official departure. Though bad weather caused delays on the first day of the Dengler's flight, once on their way, they'll be visiting every provincial and territorial capital when flying through Canada. The longest legs of their flight will be segments between Iqaluit, Greenland, Iceland, and the Faroe Islands for which long-range ferry bladders have been installed to provide necessary additional fuel for the distances involved.
Honeywell Aerospace's Ottawa-based facility is providing breakthrough on-board satellite communications capabilities to help the pilots communicate as they circle the globe. The Dengler's Bell 429 is the first such helicopter to have received a supplemental type certificate (STC) for Honeywell's Aspire 200 system which enables simultaneous voice and data connectivity on all classes of aircraft. It is the first technology of its kind to deliver high-speed worldwide connectivity while addressing the technical challenges of signal blockages inherent in rotorcraft configurations.
"We're the first helicopter circumnavigation in history to have broadband Internet access on the helicopter," stated Steven Dengler. "What this means is that we can share our trip. We can post photos, we can do live streaming, and we can do video conferencing."
Joining the Denglers on their flight is Rob "Dugal" MacDuff, a retired Bell 429 test pilot with over 12,000 hours of career flying time. The journey is expected to last 35 to 40 days, and will be the first time that any circumnavigation of the globe, in any type of aircraft, has been attempted by a father-son duo. Followers of the flight can monitor every moment of the flight's progress via the Spidertracks link on the journey's official website, www.c150go.ca.