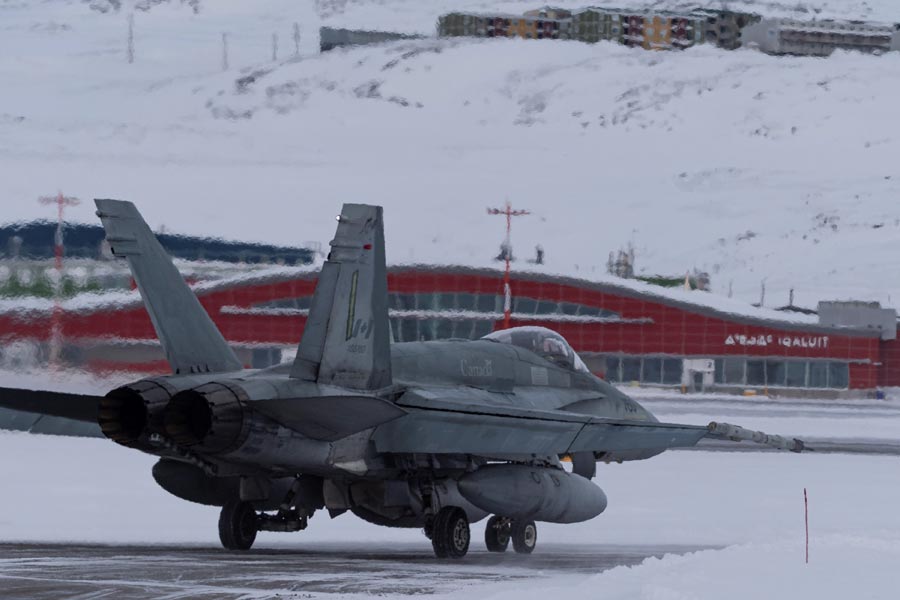 Many Ottawans were disappointed when the flypast of four CF-18s scheduled for Remembrance Day ceremonies at the National War Memorial on Parliament Hill didn't happen. The culprit, reportedly, was ice at their CFB Bagotville base.
As Canada's contribution to the defence of the North American continent as the northern partner in NORAD, one would think that something as quintessentially Canadian as ice would not prevent the Hornets from taking off. But you'd be mistaken.
CFB Bagotville shares its runways and de-icing equipment with a civilian airport that serves the Saguenay region. As reported by the online news journal POLITICO Ottawa Playbook, each aircraft needed about 10 minutes to de-ice, and must then take off within 15 minutes or be de-iced again. Given that the CF-18s were to proceed to Ottawa in a four-plane formation, it seems logistics got a bit complicated, so the mission was scrubbed.
"Kinda crummy," 3 Wing Commander Colonel Colin Marks commented.
CF-18s that are on standby for scrambling at short notice, such as to respond to NORAD missions, are reportedly kept in warm hangars. Marks, who has thousands of hours in CF-18s, said he's only had to de-ice a couple of times.
CF-18s from the only other facility in Canada where they are based, CFB Cold Lake, also had ice problems. Earlier this year Canada's airspace was "invaded" by, at the time unidentified, flying objects. Cold Lake-based CF-18s were tasked with scrambling for an intercept.
"They were delayed in departing Cold Lake because of freezing rain," Chief of Defence Staff General Wayne Eyre told a House of Commons committee when asked to explain why it took American F-22s to take down what turned out to be a balloon. "I understand that the airstrip was a bit of a skating rink, as happens in northern Alberta."