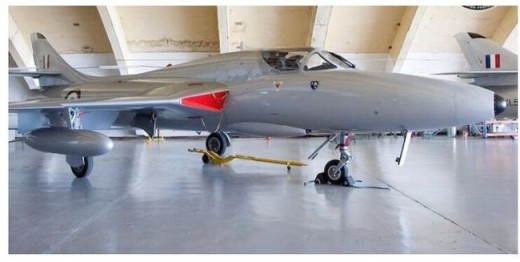 The London Jet Aircraft Museum in London, Ontario will soon take delivery of an ex-RAF Hunter Hawker fighter-bomber.
Museum volunteers simon Pont, his wife Laura and Graham Rawlinson bought the recently-retired aircraft at an auction in England.
The private owner of the aircraft went into receivership, triggering the auction.
The aircraft last flew in 2014 and was going through its annual

inspection when the bailiffs arrived. Pont told the London Free Press the aircraft should be airworthy again within two years. It's a two-seat trainer and that was part of the appeal.
"We want to bring that aircraft to the museum and have the opportunity to fly in it with more than just the pilot," Pont told the Free Press.
He didn't say how much they paid for the aircraft.
The plane was always used as a trainer and is in original RAF condition.
The aircraft will be on display at the London Air Show Sept. 17-18.