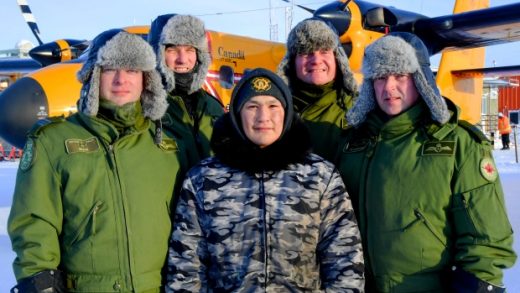 Two stranded Nunavut hunters defied incredible odds by catching the attention of a crew member aboard an RCAF aircraft that just happened to be flying overhead.
Tyler Amarualik and 15-year-old Eugene Gibbons were with Lloyd Satuqsi when their snowmobile broke down about 40 km from Hall Beach on the northeast coast of Nunavut.
Satuqsi set out for help in -40 degree weather while the others hunkered down by the sled.
At the same time, a Twin Otter crew from 440 Sqn. in Yellowknife was starting a two-week sovereignty patrol exercise based in Hall Beach.
On their first training mission to locate an abandoned mine site one of the crew thought he saw a man waving on the featureless landscape below. A second pass confirmed the discover and Capt. Thom Doelman executed a trick wheeled landing on the sea ice.
To ensure the ice could hold the aircraft, Doelman did a short field landing, holding the nose off the surface until he knew the ice would hold.
The crew managed to load the men and get back airborne in the final 15 minutes of daylight.
A ground search found Satuqsi the next morning. The hunters rescued by the aircraft were called the "luckiest two guys in the Arctic," according to reports.
"You could probably go crazy trying to think of all the things that had to line up for us to see these guys out there," said Doelman.